My Guest Q&A on Momma's Bacon: Back to School Feat: Pack a Healthy Lunch Punch! Nutritionist Empowers Kids to Become Smart Eaters
Posted on September 24, 2015 by admin No comments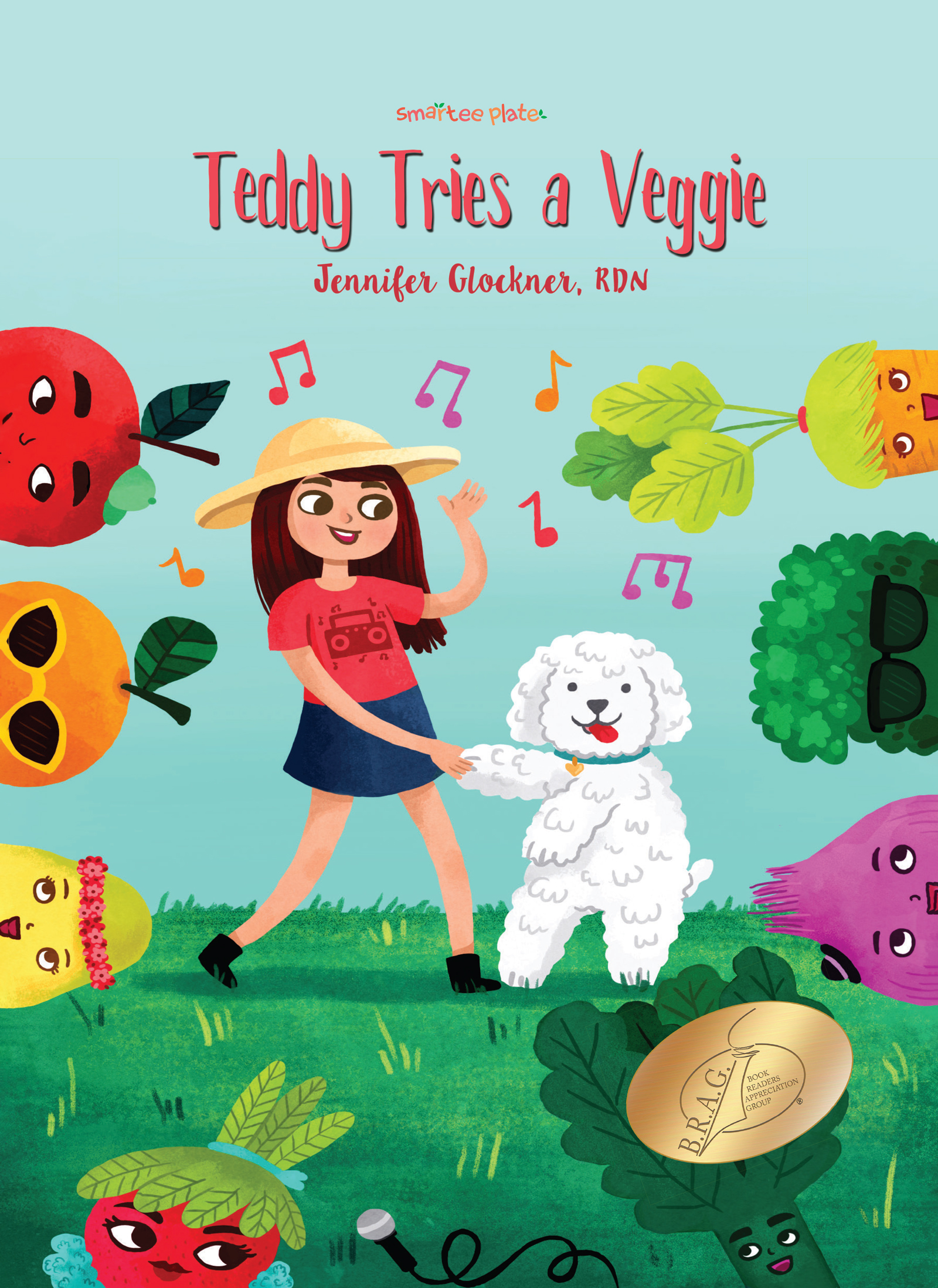 Teddy Tries a Veggie (Smartee Plate Book 1) Kindle Edition
Written by a registered dietitian nutritionist, this innovative e-book offers interactive features to make the experience of reading a Smartee Plate book loads of nourishing fun for little ones!
A frequent discussion on parent's lips is usually about eating healthy. Kids often try to dictate what they want to eat – or not eat – and as parents we are the ones that control the food purchases and habits of the entire family. As parents, Bob and I have moments where we are questioning whether the kids are eating enough and eating the right things and we have meal plans each week to make sure we are on track. Some days it is a seamless thing and other days it does take a lot of time and patience to encourage healthy habits.
A registered dietitian nutritionist, Jennifer Glocker is on a mission to empower kids to establish smart eating habits at a young age. A new interactive ebook series, Smartee Plate, is aimed at affecting change in our youngest generation. "Food is a powerful tool. Studies have shown that, after reading stories about food, kids not only eat more vegetables but understand what types of food are healthier than those who have listened to the same information."
The first book in her series called Teddy Tries a Veggie focuses on a six-year old girl who isn't convinced she needs to eat her vegetables. What I really like about this book is that it talks about the importance of eating a variety of fruits and vegetables in order to be healthy and familiarizes kids with terminology such as vitamins,minerals, antioxidants, and fiber. This e-book is fun and has lots of innovative elements all about fruits and veggies through touch-and-learn icons, pop-up fun facts, silly sound effects, a drawing tool, engaging questions and a yummy recipe. Jennifer took some time to do a Q&A session for my Momma's Bacon blog post to answer some great questions for parents on healthy eating.
Q&A with Jennifer Glocker
Q1: Why is the back to school season a perfect opportunity to kick off new healthy eating habits?
During the summer months, kids' eating and sleeping routines may become more lax. Starting a new school year is a perfect opportunity to acquire new routines and start building healthy eating habits. These habits empower kids to use food as a tool to promote wellness and prevent disease throughout their lives. A few key practices in kicking off healthy eating habits include starting the day right with a healthy breakfast, a healthy school lunch, and regular family meals, where parents can role-model good eating behaviors. Good sleeping patterns contribute to the quality and quantity of food intake. Therefore, the new school year is a great time to also establish healthy sleeping habits.
Q2: What is the importance of establishing smart food choice habits and physical activity at a young age?
My philosophy is "Start Right, Eat Bright." It's easier to establish smart eating and physical activity habits at a young age than to break bad habits later on in life. In addition, studies show that food preferences start at a very young age, maybe even as early as pregnancy. One study shows that babies who ate fruits and veggies at 14 months were more likely to eat them at around age 4. Similarly, studies show that kids growing up in physically active families are more likely to become more physically active.
Q3: How can parents encourage their children to eat a variety of healthy food choices?
There are several ways that parents can encourage children to eat a variety of healthy food choices.
Role modeling in what parents bring to the house. Shop smart to eat smart. Stock the house with healthy choices.
Role modeling what parents are eating. Kids learn through observation.
Involve kids in the planning and preparation of meals. Kids are more likely to eat foods that they were involved in.
Gardening even if it is just one pot of fresh herbs. Kids are more likely to eat fruits and veggies that they had a role in growing.
Try, try, try again! It can take up to 12 tries for kids to like a new food. By including kids in the planning and preparation, and trying new ways and recipes to prepare foods, kids may be more excited to try these new foods.
Q4: What is your favorite recipe (or recipes!) for families to make or eat together?
Kids love pasta. Try making noodles from zucchini, pumpkin, or other veggies in the squash family. Top with your favorite marinara, olive oil and garlic, and maybe even add more veggies and lean protein (chicken, salmon, beans). Or create your own chicken or turkey bolognese.
Tacos can be prepared in various ways. Kids can help pick the protein (chicken, fish, beans) , which fruits/veggies they prefer, and how they want them cut. Use whole wheat tortillas as a shell.
Q5: How important are parents in modeling good nutrition and habits in healthy eating for our kids?
Parents are very influential in establishing healthy eating habits. Role modeling is, therefore, crucial. Kids learn habits from observing parents and mimicking them. Parents have the opportunity to role model at the grocery store and at mealtimes.
Q6: I have a very picky toddler. What is a good way to encourage her to eat new or certain foods she doesn't seem to enjoy?
Dealing with a picky toddler is difficult. But there are ways to encourage her to eat new foods.
Here are a few tips:
Kids prefer cut-up fruits and veggies to whole ones. Try cutting fruits and veggies into fun shapes.
Choose fruits and veggies in her favorite colors.
Look together through magazines or cookbooks for colorful recipes and grocery shop together. Kids are naturally curious and love to know where things come from and how things grow.
Take kids to farmers' markets and farms to actually pick seasonal produce like apples in the Fall.
Cook together and give her age appropriate tasks in the kitchen like mixing or shredding lettuce with her clean hands.
Showcase fruits and veggies and display them. Make them visible and reachable.
Try, try, try again!
If these tips don't help, make her favorite foods a bit healthier. If she likes pizza, use a whole wheat crust or make the crust from cauliflower or beans. Add her favorite fruit and veggie toppings. Maybe introduce one new veggie at a time. If she only eats fruits, try one new veggie mixed with her favorite fruit.
Q7: What are your favorite activities for families to do together to be active?
In my book, Teddy Tries a Veggie, Teddy likes to garden with her dad, dance, and play hide-and-seek. Other fun family activities to be active are:
Walking
Playing ball
Swimming
Thank you, Jennifer!
I love the advice to 'try, try, try again' with healthy foods for your kids. I know that my food preferences have changed over time and the more you try the more you can succeed in getting your kids to not only eating good fruits and vegetables, they will actually LOVE to eat them, too. Check out her e-book through Amazon as well as some great printouts and information on how to join the Smartee Plate Kids' Club below.
Teddy Tries a Veggie (Smartee Plate Book 1) Kindle Edition
Kindle Price: $ 8.99