Fruits and Veggies: The Stars of Every Plate
Posted on August 4, 2015 by admin No comments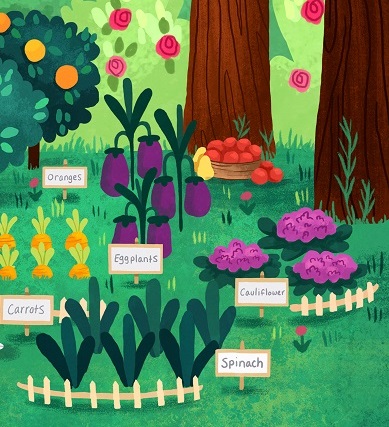 In Teddy Tries a Veggie, the fruit and vegetable characters are literally rock stars (i.e., Beta Carrot on bass and Rockley Broccoli on ukulele). They are also figuratively rock stars, as the book highlights the important nutrients each character has.
Don't Hide Fruits & Veggies. Celebrate Them!
I believe that this is how we should showcase fruit and vegetables to kids. We shouldn't hide them or apologize for them. We should make them visible. We should celebrate them. They should be the rock stars, the celebrities, the stars of each and every plate. Changing the way we look at fruits and vegetables ourselves and the way we relate them to our kids can make a big difference.
Take Kids on Outings to Gardens, Farmers' Markets, Grocery Stores 
Fruits and vegetables are bright and colorful, come in assorted shapes and various textures, diverse flavors, and can be beautiful, fun, and exciting for kids. Walk through a farmer's market or produce section of a grocery store with your children and let them see how the produce is showcased. Go to a farm or garden where produce grows and let your kids see for themselves how much work goes into growing produce and how special these things are growing from bulb or seed to the final products they recognize so well. Also, involve kids in selecting the fruits and veggies to bring home for their meals.
Create Seasonal Momentum
Let's create a momentum for kids as many favorite fruits and vegetables are seasonal. Let them know a month or two out that it's almost strawberry season or artichoke season. Get them revved up for the yumminess awaiting them as a particular season comes. Build anticipation and excitement.
Share the Beauty in an Individual Fruit or Veggie
Buy an individual item of fruit or vegetable and talk to your children about it. Revel in the beauty of a red pepper from afar, let your kids touch its smoothness and see all of its lobes, talk about the flavor and the crunch. Get your children excited about it. Open up the red pepper and show your kids how interesting they are to look at from the inside also. Ask your children if they want to eat the pepper in strips or squares, raw or warmed up in a grilled cheese or cooked with fajitas.
Be a Role-Model
If we treat fruits and vegetables with the level of excitement we want our kids to have for them, they will start to see them in the same way. Maybe they won't like every kind but the excitement may spread over time. Of course, if your children will only eat fruits and vegetables hidden in other dishes, keep doing this. But try the rock star approach and see if it makes a difference. It's not an overnight thing. It will take time to change an attitude. But it can happen.
Take Part in the Rock Star of the Month Club
Let's work together to show kids how amazing fruits and vegetables are. As part of this initiative, I'm establishing a Fruit and Veggie Rock Star of the Month Club, showcasing a particular fruit or vegetable each month to help you celebrate these stars with your kids. Each month, Smartee Plate Kids' Club members will decide which fruit or vegetable to showcase.
I'd love to hear if you or your kids have suggestions for the Rock Star of the Month or if you have other ways to celebrate fruits and vegetables that have worked for your children. In the meantime, rock on!